Northcliff Railway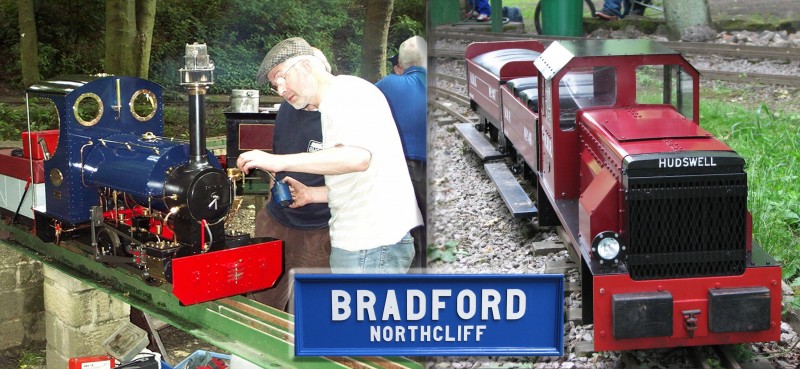 We have two tracks in Northcliff Woods, Shipley where we run steam, petrol and battery electric powered locomotives in 3½", 5" and 7¼" gauges. The raised track is an oval some 440 feet long which accommodates 3½" and 5" gauge locomotives and the ground level track caters for 5″ & 7¼" gauge locomotives and is approximately 2000 feet long with through line, station line and sidings. Both tracks have hydraulic loading tables, a turntable and steaming bays with water and 12VDC.
We run on most Sunday afternoons 13:30 to 16:00 from Easter to the end of September as long as the weather doesn't put people off. In addition to this we also run trains for private parties and special events throughout the year such as those organised by the Friends of Northcliffe (please see the Future Events section to see all our events).
The entrance to the track is from Cliffe Wood Avenue, off the main Bradford to Keighley Road (A650) approximately 200 metres on the Bradford side of the Branch Pub. There is a large wooden gate by the small car park and you need to follow the bottom path into the woods for about a minute walk, the path/road then bends to the right and you will see the clubhouse and raised track. The map below pinpoints the location of the gate.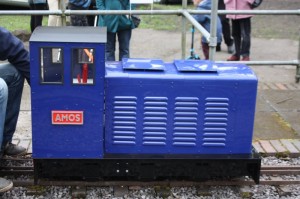 2010 and 2011 saw a lot of work done on the ground level track levelling out the gradients and tidying up the area. It also saw the development of the new club loco "AMOS", a 7 1/4″ gauge petrol hydraulic. The design was put to the test and the loco ran faultlessly throughout the season and has now been stripped down, painted and was back pulling passengers for our Easter Bunny event in April 2010.

View Northcliff Railway in a larger map
Sat. Nav. N53.825837° W1.780944°
Nearest Postcode BD18 3DD
If you wish to visit our railway with the intention of running a locomotive then please read the document below before travelling. If you have any questions then please contact us.
Oct15 Operating Rules for Railway
Latest tweets from @bmesTrains

Tweets by @bmesTrains